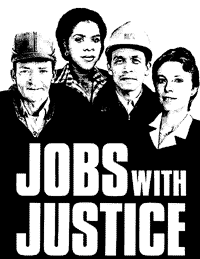 Kentucky Jobs With Justice
A campaign for workers' rights.
Solidarity Calendar
February 2
Grassroots Fundraiser Application Deadline

Kentucky Jobs With Justice is seeking a part-time, temporary Grassroots Fundraiser who will work with volunteers in preparation for our annual Solidarity Celebration in May 2007. Interested candidates must have a solid commitment to the principles of economic justice and social justice, must have excellent verbal and written communication skills, and must be computer literate and maintain focus on the fundraising goal. Submit cover letter and resume by Friday, February 2, 2007 to: KY JWJ, 1800 W Muhammad Ali Blvd, Ste 2E, Louisville KY 40203, 502.582.5452 fax.
February 3
Caribbean House Party

Put on Your Dancing Shoes! Caribbean House Party Dancing with Anayansi on Saturday, February 3, 2007 @ 7:30PM at Kay and Walter Tillow's (1227 S 6th St). A $15 minimum donation is requested. To hit the dance floor, RSVP @ KY Jobs With Justice at 502.582.5454 or [email protected]. Funds will be used to help send delegates to the US Social Forum in Atlanta in June! We've sent delegates to the World Social Forum, now we want KY to represent in GA! The US Social Forum is more than a conference, more than a networking bonanza, more than a reaction to war and repression. The USSF will provide space to build relationships, learn from each other's experiences, share our analysis of the problems our communities face, and bring renewed insight and inspiration. It will help develop leadership and develop consciousness, vision, and strategy needed to realize another world. Want more information on the US Social Forum? Visit www.ussf2007.org.

February 5
Raise the Wage

The Kentucky "Raise the Wage" coalition (to raise the state minimum wage) will meet in Frankfort at 1p.m. Call JWJ (582.5454) if you?d like to carpool to this meeting to help plan actions during the legislative session.

Feb 7
KY Progressive Caucus

The Kentucky Progressive Caucus will meet at 2pm in Room 125 of the Capitol Annex to continue the work of moving forward progressive legislation in the Kentucky General Assembly.
Jan 30
Happy Birthday, Attica!

On Wednesday, January 30th, Attica will turn 35! As she does every year, Attica is asking folks to show her some love by donating to her charity of choice: Kentucky Jobs With Justice. Attica is asking for a $35.00 donation to KY JWJ—her goal is to raise $350.00 to help send folks to the US Social Forum in Atlanta in June. While $35 is the request, you can give whatever you can afford. You can donate on line at www.kyjwj.org. See the icon on the bottom, left-hand side of the page that reads "Donate." Once you click on the icon, be sure to designate a local coalition – that would be: Kentucky Jobs With Justice. We thank you in advance!

Community Calendar
Check out the Louisville Peace Community Calendar for upcoming JwJ events and events for other progressive organizations in the area.
The Kentucky Jobs with Justice Solidarity Calendar lists upcoming events, actions, meetings and other economic justice-related activities in Kentucky. Inclusion of items in the Solidarity Calendar does not necessarily indicate a JwJ endorsement. To receive a copy by email or fax, call 502.582.5454. To see a list of KY JwJ member organizations visit the About KY JwJ section of the webpage.

---
[Home] [About] [Issues] [Calendar]
[Get Involved] [Pledge] [Donate]
[Contact Us] [National]
Kentucky Jobs with Justice
1800 W Muhammad Ali Boulevard, Louisville, KY 40203
tel: 502.582.5454 fax:502.582.5452 e-mail: [email protected]