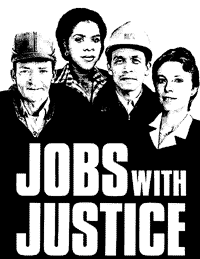 Kentucky Jobs With Justice
A campaign for workers' rights.
Donate
We rely on the donations of our member organizations and individuals like you. We are a small organization and do not receive government funding. Donations are greatly appreciated and can be sent to: 1800 W Muhammad Ali Boulevard, Louisville, KY 40203.
Donations can also be accepted through a one-time on-line donation or through a recurring donation from your credit card.
If you have 'in kind' items to donate, this is also appreciated. Please call us at 582-5454 to find out what we need for upcoming events or around the office.
---
[Home] [About] [Issues] [Calendar]
[Get Involved] [Pledge] [Donate]
[Contact Us] [National]
Kentucky Jobs with Justice
1800 W Muhammad Ali Boulevard, Louisville, KY 40203
tel: 502.582.5454 fax:502.582.5452 e-mail: [email protected]