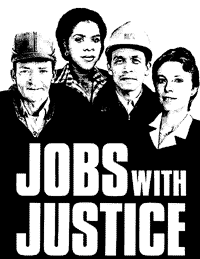 Kentucky Jobs With Justice
A campaign for workers' rights.
Contact KY JWJ
Contact Information
If you would like more information about KY Jobs with Justice, please contact us:
KY JwJ
1800 W Muhammad Ali Boulevard, Suite 2E,
Louisville, KY 40203
502.582.5454 phone
502.582.5452 fax
Or you can email us:
E-mail Updates
You can fill out our on-line form to receive e-mail updates with our Solidarity Calendar, campaign news and urgent actions.
Staff
Attica Scott, Coordinator
Dana Fadel, Administrative Assistant
Vacant, Grassroots Fundraiser
To see a list of National JwJ Staff and information about other JwJ Coalitions, click here .
Office
Kentucky Jobs with Justice is located in Suite 2E, right above Expressions of You at 1800 W Muhammad Ali Boulevard
---
[Home] [About] [Issues] [Calendar]
[Get Involved] [Pledge] [Donate]
[Contact Us] [National]
Kentucky Jobs with Justice
1800 W Muhammad Ali Boulevard, Louisville, KY 40203
tel: 502.582.5454 fax:502.582.5452 e-mail: [email protected]